VOTE NOW!
The Open Photo Contest requires
Flash 9
to use the voting interface.

When the 4 photos are displayed, click on your favorite one.
Expect to see some photos displayed multiple times, but treat each round independently.
Go with your gut...don't think about it too much.
Expect addiction to set in.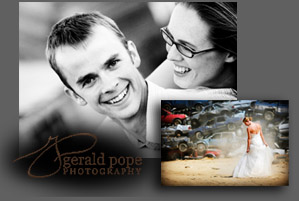 WINNER of Stellar Brides!
After shooting a few weddings for friends in 2005, Gerald and his wife Airika quickly fell in love with the excitement and energy of photographing weddings, and Gerald Pope Photography was born. "For us, nothing is more rewarding than creating something fresh, unique and beautiful. Our favorite part of the wedding day is collaborating with the bride and groom to transform even ordinary settings into something remarkable."
Gerald has quickly caught the attention of Seattle area brides with his natural eye for composition, detail and the intuitive use of light in his imagery. In addition to photographing weddings, Gerald is also the photographer for the magazine at the PRO Sports Club in Bellevue, WA. He says, "I absolutely love my job there. I work with an extremely creative team, and they give me a lot of freedom to push my limits and experiment with new ideas. The experience I have gained there over the past two years has more than prepared me to handle the fast pace and difficult lighting situations we often face at weddings. There's nothing like on the job training with a deadline to teach you how to do things right the first time!"
Gerald & Airika have done their best to manage the growth of their business, but it just keeps on growing! This March, Airika is leaving her day job to work full-time for Gerald Pope Photography. In 2008, they are excited to be expanding their weddings beyond Seattle, and have already been commissioned for weddings in Pennsylvania, Kansas, Southern California, and Mexico. They eagerly anticipate the freedom this will give them to travel and see the world as they continue doing what they love—shooting weddings.
You could be featured too! Sign up and submit your photos and winners will be featured here.