VOTE NOW!
The Open Photo Contest requires
Flash 9
to use the voting interface.

When the 4 photos are displayed, click on your favorite one.
Expect to see some photos displayed multiple times, but treat each round independently.
Go with your gut...don't think about it too much.
Expect addiction to set in.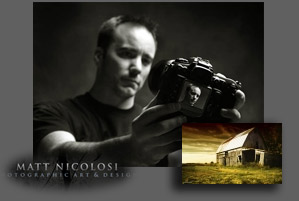 WINNER of Traveling!
Matt Nicolosi is a portrait photographer who calls Dallas, TX his home (although he'll always be a Buckeye at heart). When asked to describe his style and approach, he answers, "If I had to pick a word to label my style, I would say 'evolving'. That might be a cop out answer, but I go through phases, and honestly, I just try to capture people and places in a way that is interesting, honest and speaks to me personally."
Matt first moved moved to Dallas back in 1996 after graduating from Ohio State (O-H...) to work for a fortune 500 company as an Industrial Designer. While he still enjoys creating things with the mighty pen, he decided to trade in his 2D tools for the camera when he officially opened his photographer doors for business back in late 2005.
Although he didn't study photography formally, he also wouldn't claim to be 'self-taught'. (I mean, c'mon... who REALLY just learns this stuff on their own, right??). He credits his success in photography to LOTs of blog-stalking (starting with DJ's, of course), a few workshops, many hours of 'Hmm... well that didn't work", and the willingness of a lot of awesome photographers out there to openly share what they know. "There's never been a better time to be a photographer."
In his 'free' time, you can often find Matt scouring the web for cool but relatively useless factoids, obsessively checking his blog for comments, squeezing in a little flag football, and generally just hanging out with his local tribe of friends (who are constantly and shamelessly soliciting free photo work, btw). He also has a passion for occasional quite time when it's just him, his camera and a city or countryside to explore. "I love photographing all things Americana." Oh yah, and after a 14 year dry spell without them, he recently was reunited with a box of Twinkies and ate the whole thing in a day.
In addition to growing his current portrait business, Matt is also interested in expanding his skills to include a limited amount of wedding photography as well as donating more of his time and services to charitable causes that give back to the community.
You could be featured too! Sign up and submit your photos and winners will be featured here.